EVENTS Reading in Pordenone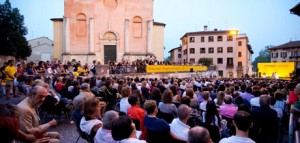 By Ada Treves
Pordenonelegge is one of the most important Italian literature festivals and it is held in September in Pordenone, a small town situated less than sixty kilometres from Venice, in the region called Friuli Venezia Giulia.
Pordenone, with its characteristic medieval centre, boasts the presence of an extraordinary audience keen on culture and literature every year. Together with a specific attention to themes like cross cultural understanding, multiethnic integration and a strong interest in poetry, edition after edition also the attention to Jewish and Israeli culture has been steadily growing, to the point that the edition opening this week will be inaugurated by David Grossman, interviewed by Gian Mario Villalta, one of the three curators of the Festival, together with Valentina Gasparet and Alberto Garlini.
As the last issue of Pagine Ebraiche has published in Lingue e linguaggi, its special pages devoted to this season of Cultural Festivals in Italy, together with Grossman will also be the South African Deborah Levy, with her "Swimming Home", while the Talmudist Haim Baharier will bring to Pordenone personal memory and collective history of the Jewish people.
Writers, philosophers, journalists, poets and artists take turns on stage and there is only the language of a culture facing the real problems of our time, far the sake of truth or vocation, or out of necessity. A place of dialogue among different disciplines and different views in the cultural world: the professor, the writer, the voyager or the sportsman, everyone is involved in intense debates that alternate shows, exhibitions or even aperitifs with the authors.
From success to success, Pordenonelegge is approaching its fifteenth edition and in the last few years it reached an audience of more than a hundred thousand people. All the hundreds of events on the programme always have a passionate public, really "a book feast, with the authors" as the claim of the Festival goes.