NEWS For the Future Rome Holocaust Museum, a Step Forward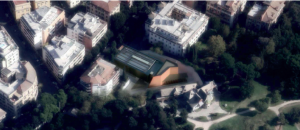 By Rossella Tercatin
The winner of the tender for the construction of the Rome Holocaust Museum was announced last week. As reported by the Italian press, the building firm SAC, headed by the Roman entrepreneur Emiliano Cerasi was selected from among 23 other companies. The firm also built the Opera House in Florence and the Maxxi, the National Museum of 21st Century Arts in Rome.
For the yet-to-be-built Rome Holocaust Museum, the past few months have not been easy. Last August speculations reported in the Italian press about a possible change of location from the designated area of Villa Torlonia, the former residence of fascist dictator Benito Mussolini, to a commercial area in a popular but suburban neighborhood, started a bitter dispute among the different people involved in the project. Namely this involved the representatives of the Jewish community of Rome who pushed for the location change allegedly to speed up the building of the museum and of the other institutions sensitive to the cost and time already spent by the municipality for the project in Villa Torlonia. Finally the parties agreed to the proposal of Rome mayor Ignazio Marino, to continue the project in Villa Torlonia and at the same time to open a temporary museum in another building, the Casina dei Vallati located in the old ghetto, the ancient Jewish neighborhood.
"Our effort will be to inaugurate the construction site on January 27, 2015 for Holocaust Memorial Day," announced Paolo Masini, a member of the Rome city council, after the announcement of the tender winner.
The temporary museum is supposed to be open to the public on the same day.
"The selection of the building firm (architect) is an important step for which we have been waiting for years," Leone Paserman, the president of the Rome Holocaust Museum Foundation, told Pagine Ebraiche. "Now is the time to get to work and to work hard."