NEWS A Song to Celebrate Relations between Israel and the Holy See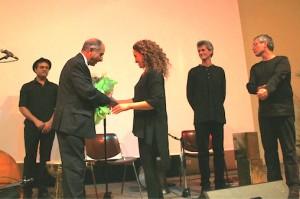 By Rossella Tercatin
A celebration to mark the twentieth anniversary from the establishment of diplomatic relations between Israel and the Holy See was organized by the Embassy of Israel to the Holy See last Thursday. Special guest of the evening was the Israeli Singer Noa.
"In the past twenty years a lot has been done to foster understanding and progress in the relations between our countries", underlined Zion Evrony, Israeli Ambassador to the Holy See, "Today the relations are good and based on mutual trust. Now we are working on the agreement regarding financial and economic issues."
The event was held at the Collegio Urbano di Propaganda fide and the opening speech was held by Cardinal Pietro Parolin, the Holy See Secretary of State. Among the persons attending, were the president of the Union of Italian Jewish Communities Renzo Gattegna, the vicepresident of the Jewish Community of Rome Giacomo Moscati and the coordinator of the Italian Rabbinical School rab Gianfranco Di Segni.