EXHIBITIONS The Colors of the Torah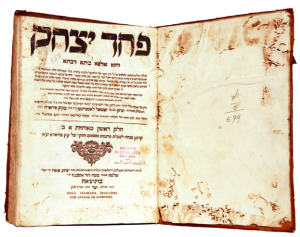 By Francesca Matalon
Shiny silver, classy gold and bright pink. The exhibition "Torah fonte di vita" (Torah, Source of Life), currently on display at the National Museum of Italian Judaism and the Shoah (MEIS) in Ferrara, appears colorful and modern. The exhibit opened last week and is presented in collaboration with the Jewish Community of Ferrara, the Municipality and the Regional Directorate for Cultural Heritage and Landscape.
"Torah fonte di vita" houses a selection of objects of Jewish ceremonial art and books from the collection of the Museum of the Jewish Community of Ferrara, which has been closed to the public since 2012 when the building was seriously damaged by an earthquake that shook the area. The organizers' desire is to return to the city an important part of its identity thus helping preserve and enhance the treasures of local Jewish cultural heritage, "Through the development of a new narrative addressing the public of the MEIS," as Sharon Reichel, art historian and curator of the exhibit explained.
The three exhibition rooms each explore different moments of Jewish life each time an individual comes into contact with the Torah in a continuous interplay between public and private rituals. One whole section is dedicated to the importance of the text in the Jewish tradition. An interactive approach and inspiring quotes on the walls lead the visitor through a conscious and stimulating learning experience, providing food for thought and pointing out that Judaism continues to be alive and well. Moreover, the exhibition marks the first time that the museum, currently still under construction, is now permanently opened to visitors.
"The building of the National Museum of Italian Judaism and the Shoah is a symbol of the rebirth of Italian Judaism and this exhibition is a very important step in the process," MEIS President Riccardo Calimani said. "It would be too little to limit its function to housing beautiful objects – we want it to become a laboratory of ideas serving as an incentive for civil and social development".
"The exhibit, as explained by Reichel, is thus an opportunity to prove that the MEIS can and will be an institution whose purpose is not limited to a collection of memories from the past, but also will be an active presence for the redefinition of the present for the Jewish and non-Jewish public. It is a place to reflect on their differences as well as their many unexpected similarities."