ITALIAN PORTRAITS Rita, a Life for Science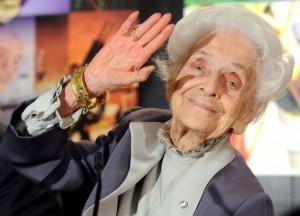 By Jazmine Pignatello*
Rita Levi-Montalcini was born to a wealthy Italian Jewish family in Turin in 1909. Although she had literary aspirations early in life, she was inspired to become a doctor after the loss of a close family friend to stomach cancer. Her father advised all of his children against going to college, but eventually he supported Rita nonetheless.
In 1936, Rita Levi-Montalcini graduated from the University of Turin Medical school with an M.D. and began working as the assistant to Giuseppe Levi. Dr. Levi was a neurohistologist who introduced Levi-Montalcini to what would become the main focus of her work in the years to come: the developing nervous system. Two years later, Mussolini's Racial Laws forced her to leave her job at the university. However, Levi-Montalcini did not cease her research in the face of racial persecution; she followed her passion and made herself a home laboratory. Here she continued experimenting and studying the growth of nerve fibers in chicken embryos.
Between 1943 and 1945, Levi-Montalcini's family relocated to Florence to flee the German occupation of Italy. A year after her family returned to Turin, in 1946, she accepted a one-year job offer to work under Viktor Hamburger at Washington University in St. Louis. When the university saw her laboratory results, she was offered a full-time research associate position. She pursued her research for thirty years in St. Louis and made many advancements in the understanding of how cancerous tissues work. In 1962 she established a research lab in Rome and continued researching both in Rome and St. Louis. From 1961 to 1969 she was director of the Research Center of Neurobiology in Rome, and from 1969 to 1978 the Laboratory of Cellular Biology. In 1986 she won the Nobel Prize in Physiology of Medicine. Then in 2002, at the age of 93, Levi-Montalcini founded the European Brain Research Institute.
Rita Levi-Montalcini was and is a great inspiration for anyone facing adversity. She overcame the barriers of race and gender during a period of racism and persecution. Her scientific discoveries are amazing on their own, but how and when she performed her research is a true testament to her passion and perseverance. She is a role model for any oppressed group of people, and her work is solid proof that anything is possible, through dedication of mind and spirit.
*Jazmine Pignatello is a student at Muhlenberg College (Allentown, Pennsylvania, USA).