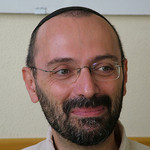 By Benedetto Carucci Viterbi*
"Go forth from your country, […] to the land which I will show you". The first command of God to Abraham leaves the destination undetermined. Every step of his wandering becomes, itself, fulfillment of the divine word.
*Benedetto Carucci Viterbi is a rabbi and the principal of Rome Jewish School. The article was translated by Sabina Muccigrosso and Jazmine Pignatello, students at Muhlenberg College (Allentown, Pennsylvania, USA).