NEWS A New President for Italy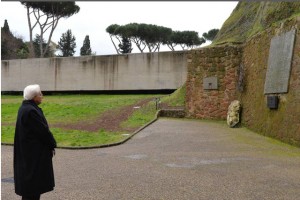 By Rossella Tercatin
Sergio Mattarella, who was elected president of the Italian Republic on Saturday, visited the Fosse Ardeatine, as his first official act as president.
"The alliance between nations and people succeeded in defeating the Nazis, racists, anti-Semitic and totalitarian hatred which this site painfully symbolizes. The very same unity in Europe and in the world will enable us to defeat those who want to drag us into a new season of terror," Mattarella said during his visit to the Ardeatine caves outside Rome. Here in 1944, 335 people including 75 Jews were massacred as a reprisal for a partisan attack against the Nazis.
Mattarella was born in Palermo, Sicily in 1941. He served in the Italian Parliament for 25 years between 1983 and 2008. In 2011 he was appointed a Supreme Court Justice by the Italian Parliament.
The president of the Union of Italian Jewish Communities Renzo Gattegna congratulated Sergio Mattarella on behalf of the Italian Jewish community.
"The appointment of Sergio Mattarella comes at a time when the country is facing multiple challenges both domestically and internationally. So that our nation can attain the goals and qualities such as awareness, determination, charisma and attention both on the short term and on long term issues president Mattarella has the necessary characteristics and has already demonstrated these in his political career," reads Gattegna's note. "The highly symbolic value of the president's first act and his words against hatred, racism and anti-Semitism during his visit to the Ardeatine Caves Memorial are a clear message for the whole country".