OUT OF THE BOOT – Uber Ride around Miami with Rebecca
By Simone Somekh*
In the past decade, the trend has arisen for adolescent Italian high-school students to engage in study-abroad programs for a semester, or — in order to fully submerge themselves in the foreign country of their choice — for a full academic year. Despite the Italian schooling system being drastically different compared to the ones elsewhere, more and more students, and their parents, decide that this life changing experience is worth the hassles. Thus numerous young and brave individuals have been travelling to several English-speaking destinations, such as the States, Australia, and England. The aims of such experience are clear: learning English, exploring a new culture, and ultimately expanding one's horizons before making the difficult decisions that arise after high school.
Among the many teenagers from the Italian Jewish schools who are studying abroad this year, there is Rebecca Raccah, a 17-year-old girl from Rome, who is spending one semester at Miami's Sheck Hillel Community School.
"I've always had the goal to come to the States," she said. "In the very beginning, it was a shock for me. In Rome I know everyone in the community. Here everything is bigger and it feels dispersive. There are so many different Jewish communities, so being Jewish here is… normal."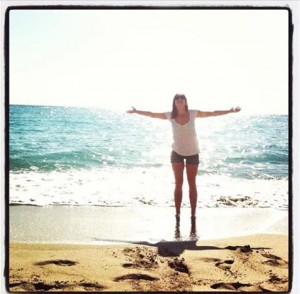 Such normality implies the lack of the sense of belonging and reciprocal protection that characterizes the Jewish community in Rome, explained Rebecca.
It took a few weeks for the Roman student to feel at home in Miami. The warm weather — "I'm going to the beach today. And it's February!" — the family who is hosting her, and the large, vibrant school she is attending all helped make her experience a relaxed and enjoyable one. "They call me 'the Italian' at school," she confessed, "and tonight "my family" is taking me to see Bocelli live in concert. It's pretty funny, because I've never seen him in Italy. I had to come all the way to the States for that."
However, she found the American society to have a whole different dynamic if compared to Italy. Coming from the frenzy and chaos of Rome, Rebecca was astonished to see how "chilled" Miami is. "I'm a control freak. Adapting to Miami was quite the challenge".
Though she misses her family and friends back in Italy, Rebecca is enjoying every minute of her chilled life in Florida — meeting new people every day, trying exotic kosher foods, exploring the city from the seat of Uber cars, challenging her level of English with many interesting classes, and hanging out at the typically American "house parties."
"I'm trying to get the best out of this semester abroad," she said. The Jewish school of Rome, unlike many other schools in Italy, has been very supportive of students like Rebecca; five other people from her class are doing a similar experience abroad. "It's a challenge for me, since I've always lived in the same environment. It's helping me become more independent and to improve as an individual."
*Simone Somekh is a student at Bar-Ilan University, Israel, and works as a freelance writer. Shirly Piperno, fashion styling and communication student at Istituto Marangoni, London, contributed reporting.