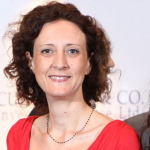 By Daniela Fubini*
Pesach is the best Jewish holiday, ask anyone. Family reunions, trips abroad or in the surrounding areas with or without hastily organized picnics, family recipes repeated year after year, and over all, Spring, finally here. This year, two basic components were lacking to my perfect Pesach: the recently discovered and now fundamental mimouna, and the beginning of spring. Both, due to the fact that I spent the whole holiday in my hometown Turin, in the deep North of Italy. Or so I though, until I found out that in Israel the weather has been quite unseasonal, and after the steamy chamsin, it was again quite chilly and it rained even in Tel Aviv apparently – unless someone just wanted to make me jealous while I was still abroad. Spring is far away to come.
So it looks that only the traditional Moroccan mimouna was really missing due to me being still on the other side of the sea. Something I discovered only in my New York years, the ending of Pesach directly into a bath of mufletas is absolutely delicious. I cannot complain about the lavish pizza I ate about one hour after the holiday was over. Respect for traditions, first. But after seeing a mimouna table, and enjoying with methodical devotion each of its parts – fluffy and flat mufletas spread with butter and honey, or with butter and a variety of handmade marmalades, almond cookies, and colorful pastries, Pesach becomes simply a different, upgraded culinary event.
In Israel, this is obvious to most of the population, even to the Ashkenazim who rarely know the real meaning of "good food", and definitely not over Pesach. It is one of the very few moments of the year when the highest ranks of government visit Moroccan and Sephardic families, and eat their tasty foods. I always wonder how after that they go back to their households and eat gefiltefish the following Shabbat, over and over again. Courageous people, chapeau.
*Daniela Fubini (Twitter @d_fubini) lives and writes in Tel Aviv, where she arrived in 2008 from Turin via New York.