OUT OF THE BOOT Shooting in Singapore with Lorenzo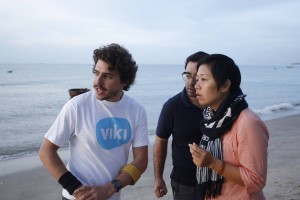 By Simone Somekh
Lorenzo Hassan, 32, has always been fascinated by foreign cultures, in particular Asian and Oriental heritages.
"It all started when I got interested in Japanese anime and manga," he said. "Then I got into martial arts, and later I developed an interest in Hong Kong's thriving movie industry." Lorenzo had visited Japan numerous times – where his cousin, who is married to a local, resides – and had been eager to leave Italy and explore Asia not as a tourist, rather as a student gaining experience in the industry.
After graduating in history at the University of Milan, he realized he wanted to turn his passion for storytelling into a living, so he embarked on a career in movie production, working for a couple of years with Italian movie director Ruggero Gabbai. As soon as he heard about New York University's newly opened Singapore campus, he applied to their M.F.A. program in filmmaking and eagerly awaited for a response that would turn his life around.
"The school had just opened," said Lorenzo, "and I liked the idea of being a pioneer, one of the first to study at NYU's Asian campus."
The minute he walked out of Singapore's Changi Airport, he clashed with a virtual "wall of gelatin", as he defined the unbearable level of humidity. "It's hot as hell there." The weather was harder to get used to than the local culture, which consists of a rich melting pot of cultures, tradition, and food. "Singapore is often portrayed as a closed city-state, almost as a fortress ruled by civic discipline. But the people are very open and always willing to help you when you're in need."
After getting acquainted to the local "singlish" accent, a mixture between the English language and the Chinese accent, Lorenzo never felt "lost in translation". "The official spoken language is English," he explained. However, as westernized as Singapore may seem from the outside, the city is strongly influenced by the local Asian culture, Lorenzo explained.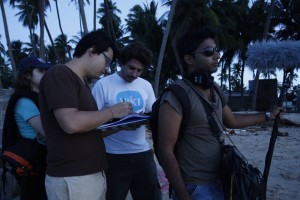 For the following two years, Lorenzo would wake up at 7 a.m. every day, make himself a cup of espresso with Torrefazione Vercelli coffee (which his mother would send to him regularly), and rush to the university campus by the very efficient public transport. In all indoors public spaces the air conditioning would always be set to 19°C. Between classes, Lorenzo would discuss his projects with classmates and professors. The pressure was high and he got accustomed to sleeping only four, five hours per night.
It took a very short time for him to realize how hectic the life of an NYU filmmaking student is. While studying, though, Lorenzo found the time also to enjoy the spectacular, gigantic Asian capital and to do some freelancing for several big companies – such as Coca-Cola, for which he produced a commercial entitled "The Sharing Can," which currently counts 2 million views and for which he was awarded two Gold Lions at the Cannes Lions International Festival of Creativity.
What do people in Singapore do when they are not busy winning Gold Lions?
They eat, replied Lorenzo.
"In Singapore you wouldn't have a conversation about politics," he explained. "But you would definitely have plenty to talk about food." People eat out in Little India, China Town, or Arab Street. Many friendships were born at the dinner table, said Lorenzo. "The quality of clubbing is also outstanding: If you're looking for something a little 'posh', I'd suggest you go to Ku Dé Ta". So much fun, of course, doesn't come for free. Singapore is an exceptionally expensive place.
During his stay, Lorenzo also attended several events at the local Jewish community. "It's a vibrant community with a century-old history behind " he said. The young producer was there for the main holidays, such as Rosh Hashanah, Passover, and Simchat Torah. "I have to admit… when I first arrived to Singapore, I had to spend my first Yom Kippur away from home, and it was not easy to adjust to the Ashkenazi rite. So the following year I moved to the Sephardic one, which is still different from the Italian rite, but was definitely more lively."
It was interesting to meet so many Jewish expatriates from around the world, said Lorenzo. "I met Jews from Australia, Israel, France, and so on. I even met a local Jew from Singapore, and it was a great chance to learn about the concentration camps in which the Japanese confined the Chinese Jews, following the German model."
When he completed his Master's, Lorenzo stayed in Asia for another year working as a freelance producer. He spent three months in Malaysia, where he worked on Netflix's drama series "Marco Polo" and was Peter Chan's assistant at the Venice Film Festival ("He loves my spaghetti with bottarga!").
Since the beginning of his career in the movie industry, Lorenzo has worked with people from all nationalities and of all religions. "Malaysia is a Muslim country. I was there during Israel's Operation in Gaza in 2014. Initially I was quite wary about it, but later I discovered that the people were very open-minded and curious."
The young producer has now returned to Milan, where he hopes to embark on new journeys and continue exploring the world through the lenses of his camera.
"At the moment, I'm very interested in the industries in South Korea and India. Movies are a great way to discover new places and cultures."
*Simone Somekh is a student at Bar-Ilan University, Israel, and works as a freelance writer. Shirly Piperno, fashion styling and communication student at Istituto Marangoni, London, contributed reporting.