CULTURE Israeli Cartoons on the Bay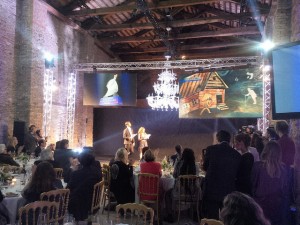 By Ada Treves
The satisfaction and joy of the delegation representing Israeli animation in Venice, for Cartoons on the Bay were already great, but the official closing ceremony had one more surprise: the Pulcinella Award for the "Best educational and social work" went to the Israeli short film "Anafim Shvurim" (Broken branches), by Ayala Sharot. The award, given "For having given such a vivid touch to the memory of the Diaspora, through a true story that has been told in a tough but very touching style" has thus added to the others. The Pulcinella award to the most interesting country has been accepted by the Ambassador of Israel in Italy, Naor Gilon, while the Pulcinella Award for Lifetime Achievement went to Hanan Kaminski, the Belgian-Israeli author and director that has been rewarded not only for his work but also for having trained a generation of animators.
Eldad Golan, cultural attaché of the Israeli Embassy in Italy, who accepted the award for Anafim Shvurim was obviously very happy for the successes, and during the award ceremony had the opportunity to get to know better the representatives of Israeli animation. Besides Hanan Kaminski and Dudu Shalita – founder and director of the Animix Festival in Tel Aviv, who with Kaminski made the history of animation in Israel – the stars of the festival were Yuval Nathan, director of the Yuval & Merav Nathan Studio, Yoni Cohen, founder and general manager of Snowball Studios, Ron Isaak, co-founder and program director of Talit Communications and director Liran Kapel, whose short film, Nyosha, was shown at the opening, on Yom HaShoah.
Many compliments arrived from Constanta Esclapon, director of Rai.com, the festival's artistic director Roberto Genovesi, who announced an alliance with Animix, which will bring a delegation of Cartoons on the Bay to Tel Aviv, to the great Israeli animation event. Even Ariela Piattelli, the festival consultant who coordinated the delegation from Israel, has expressed great satisfaction with the prizes collected, which showed an aspect of Israel that is less known.
The propensity for innovation is at the service of a world which in recent years has been completely transformed by the technological development to arrive, as demonstrated by the works of Yuval and Merav Nathan and Liran Kapel, to extremely sophisticated new software, which have given them a better instrument to work with stop-motion, where the key word is "control." As explained by Nathan, the software is so advanced that it now gives the author the possibility to devote time and energy to pure creativity, and the difficulties inherent to stop-motion techniques are overcome by the ability to check and if necessary remove each frame, leaving room for a freedom of thought and reasoning that, at least in his case, turns animation into art.