NEWS Expo 2015 Opens in Milan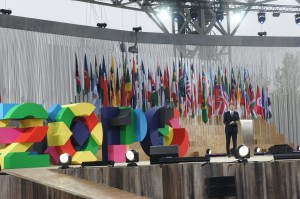 By Daniel Reichel
On May 1, Milan celebrated the opening of Expo 2015 (May 1 – October 31). More than 200,000 people visited the site and the Pavilions, which represent more than 140 countries. "Today the future begins," said the prime minister of Italy Matteo Renzi on Friday, during the official ceremony that took place in the Open Air Theater of Expo. "In these coming months, the world will be able to taste Italy, not only its specialties but especially the profound desire of writing a new chapter of hope", added Renzi. The Prime minister explained that Expo is not only a chance for Italy to restart the country's economy but is also a challenge for all the nations to provide answers to the world food problems.
"Expo Milano 2015 is designed to tell everyone on the planet that hunger can be eradicated and that each of us can do something to stop the unsustainable exploitation of the planet", said the mayor of Milan, Giuliano Pisapia on Friday remembering the world fair's title, "Feeding the Planet. Energy for Life."
Despite the problems of some pavilions and work that isn't finished yet, the atmosphere in the Expo village is very positive. "It is incredible here in Expo where you have a small world. In a few meters you can be in Thailand, Brazil, Switzerland or Sudan", said one of the visitors after finishing a visit the Israeli pavilion which is located in the center of Expo, very close to the Italian and Vatican pavilions . One of the first to visit the Israeli pavilion was the Ambassador of Israel to Italy, Naor Gilon, accompanied by the Israeli commissioner for Expo Elazar Cohen. "Fields of Tomorrow" as the Pavilion is entitled, aims at showing to the public the mix of tradition and innovation that makes Israel one of the leading countries in the agricultural field. In the first days hundreds of people stopped to see the vertical field that characterizes the structure: an impressive wall, which is 70 meters long and 12 meters high. It is fully decorated with living plants whose flowers and colors change with the passing of the seasons.
Expo opening day wasn't just a celebration. In the center of Milan thousands of people demonstrated against the Universal Exposition calling it a "a symbol of waste and corruption", underlining the legal problems that affected the project in the past years. Sadly the peaceful demonstration turned violent, with some 400 rioters destroying shop and bank windows, throwing stones and setting cars on fire. The images of the Milan devastation were shown all around the world. Not the best start for a city about to host 20 million people in the next six months according to the estimation of Expo's organizers.