EVENTS The Fight against Inequality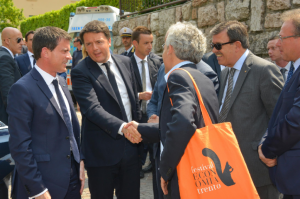 By Daniel Reichel
"Inequality is the consequence of policies that have been implemented through the years, and therefore it can be fought." This was the message sent by Joseph Stiglitz to politicians all around the world during his lecture at the Festival of Economic Sciences in Trento.
The winner of the Nobel Prize in Economics explained to the Italian public that ever since he was young he has focused his attention on inequality, realizing that America is the industrialized country with the biggest gap between the rich and the poor and that the so-called American dream is just a myth.
"The most unpleasant aspect of inequality," he said "is the consequential disparity in terms of opportunities." This disparity and social mobility are the themes of the tenth edition of the Trento Festival, which opened on Friday. There for the third year in a row, Pagine Ebraiche was distributed at the information points and at the main locations where the festival is taking place. Copies of the Italian Jewish paper ran out just a few hours after the opening.
In this month's issue, Pagine Ebraiche offers a Jewish perspective on the major issues in current political and economic affairs and it has dedicated a special dossier to the subject, "Markets and values", in particular to theme of the Trento Festival, "Social Mobility and Inequality".
About those issues, the most prominent figures in the economic arena have been invited to Trento: not only Joseph Stiglitz, but also another Nobel Prize winner Paul Krugman, the well-known economists Thomas Piketty and Anthony Atkinson, the prime minister of Italy Matteo Renzi and the prime minister of France Manuel Valls.
Stiglitz's message was directed especially to them, to Renzi and Valls, as well as to international rulers, asking them to focus on inequality and on the growing disparity between the rich and poor.
"We can act to change the policies that generate inequality, remarked Stiglitz, whose speech opened the five days of the Trento Festival- but we must intervene rapidly". It is not enough to make small adjustments; fundamental and urgent changes are required. We need to understand the causes much better and rewrite the rules of the capitalist economy, otherwise in 30 years we will have an even more unequal society. "The problem, he concluded, is not 21st century capitalism, but rather the policies implemented."
"One of the saddest things about primary school reunions4," said Tito Boeri, Scientific Director of the Festival of Economics, is to find out that income inequality among classmates has remained unchanged throughout the years: the rich child is still rich and the poor child is still poor. Dynamic and static inequalities are equally important."
"Social mobility means that even when inequalities are most glaring, explained Boeri, it is still possible for those in the lowest income bracket to climb up the social ladder."
In Italy – but also in other West Countries – this problem is worsened by the high rate of unemployment (43% of the Italian youth is unemployed) and Italian Prime minister Renzi said he is working to solve this problem, criticizing the austerity policy that guided Europe in the last few years. "The idea that European policy should be based only on austerity and rigor, he said, is unacceptable. Europe needs to invest in growth and reverse this direction. Italy, after having made the reforms that it needed and recovered credibility, will focus on this, asking Europe if it makes sense to rely only on austerity."
(photo credit: Paolo Pedrotti)