NEWS Limmud Italia Is Back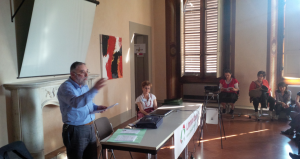 By Adam Smulevich
About 150 people attended the second edition of Limmud Italia which took place in Florence at the beginning of June.
The event is part of the international network of Limmud Conferences, which aims to create the broadest opportunity for Jewish engagement all over the world (in 2014 events were offered in 40 different countries, with almost 30,000 participants).
Among the themes discussed during the two-day event were education of young people, the role of women in Judaism, the meaning of studying Torah today and mysticism and symbolism.
Raiz, a well known Italian musician, offered a session on the influence of Ashkenazi and Sefardi melodies on his career (which brought him to the stage of the Festival of San Remo, the main music festival of Italy). The editor-in-chief of Pagine Ebraiche Guido Vitale discussed the challenge of offering professional and coherent news.
"I'm very happy. The number of people who came to Florence confirms that the event has been a success beyond our expectations. In the future, we will have to try for a better engagement, investing energy to involve rabbis and more young people. Our future, the future of Limmud Italia, is based on this challenging commitment," said Sandro Servi, one of the organizers of Limmud Italia.