NEWS Italy Celebrates the Jewish Culture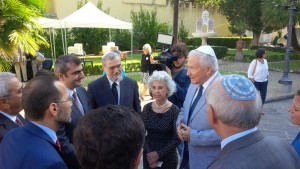 By Rossella Tercatin
The European Day of Jewish Culture has been celebrated in Italy on Sunday in over 70 locations.
The event offered concerts, lectures and performances, as well as the opportunity to reflect upon the latest challenge Italy and the European Union are facing: the refugees crisis.
From Florence, selected as the leading city for 2015, president of the Union of Italian Jewish Communities Renzo Gattegna expressed the desire to dedicate the Day to the refugees, people in need, forced to risk their lives and the lives of their children.
The importance of solidarity was emphasized also by the president of the local Community Sara Cividalli, inspired by the topic chosen as 2015 main theme: "Bridges".
"What is a bridge? It's the capacity of relating to others without losing our identity," Cividalli said.
Among others, the Day of Jewish Culture was celebrated in Milan with events at the Great Synagogue, at the World Expo and at the Holocaust Memorial. In Turin, the president of the Community Dario Disegni announced that they are going to prepare an apartment to shelter some migrants.