NEWS Refugees, a Summer of Jewish Solidarity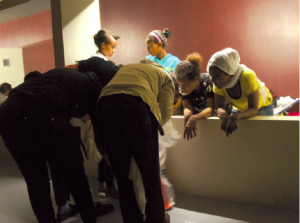 By Rossella Tercatin
The summer of 2015 in Europe, and especially in Italy, will be remembered as one of the most challenging in terms of the numbers of migrants who reached its shores.
Facing such a major humanitarian crisis, Italian Jewish communities and institutions have not remained indifferent.
Following many initiatives taken in Milan, the Jewish Community of Genoa also started to collect food, clothes and other indispensable goods to meet the needs of the hundreds of refugees who have reached the city.
"Through this initiative, our community is expressing an essential part of our Jewish identity and is also fulfilling its role in the city by performing the mitzvah of tzedakah, of humanitarian solidarity," said the chief rabbi of Genoa, and the president of Italian Rabbinical Assembly Giuseppe Momigliano.
At the beginning of June every evening the Holocaust Memorial of Milan started to be turned into a shelter for refugees. "Today there is not the same indifference that surrounded what happened to Jews during World War II. However, everyone needs to be careful, because the risk of turning ones head away when they are not affected by the situation is always there," said Italian Holocaust survivor Liliana Segre, praising the decision of offering shelter to the refugees in the Memorial. The meals for the refugees were provided by Beteavon, the local Chabad soup kitchen.
Also the Jewish Community of Milan cooperated with the City Angels, a local charity specialized in dealing with social emergencies in Milan, collecting food, clothes and toiletries for the refugees.
"The response of the Jews of Milan has been great. The hope is that we will be able to continue providing help until the end of the emergency," said a member of the Jewish Community Council, Daniele Misrachi.