NEWS Flood Hits Genoa, the Jewish Community Reacts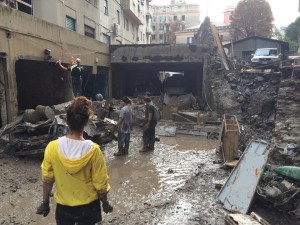 By Simone Somekh*
On October 9th and 10th, the Italian city of Genoa was hit by a devastating flood.
"We came to Genoa from Milan to spend Sukkot with our family," said Sarah Momigliano Sciunnach, 24, still shocked by the unceasing rain and consequent damage. "On Friday morning there were three men praying in the synagogue, but then the police came and asked them to go home."
On the 10th, in fact, the situation got out of control, as the rivers overflowed and most of the city was covered with mud. The water reached the lower floors of many buildings, causing severe damages, especially to shops and local businesses. For several days, the population lived in state of alert; the streets were closed to traffic and so was a railroad, which had been hit by a landslide. The body of a drowned man was found in the water.
Momigliano's husband, Paolo Sciunnach, 37, lost his car, as he explained in a video he posted on Facebook, showing the underground garage where he had parked it, now completely flooded and filled with mud.
"It's going to take ten days to empty it," continued Momigliano Sciunnach.
The synagogue, which is located in a geographically higher area of the city, was not damaged, said in an interview Marcello Vitale, 28, secretary of the Jewish community of Genoa. "We had a flood in one of the halls of the community, but nothing serious, if compared what happened in other areas of the city," he said. "A lady of the community, who owns a clothing store, experienced severe damages."
On October 13th, Chief Rabbi of Genoa and President of the Italian Rabbinical Council Giuseppe Momigliano sent out an email to the community members, stating that the Jewish community got in touch with a few Jewish organization that are available to give financial aid to the members who may need it. "Please report to us the situations for which support is needed in order to face the most urgent needs," Rabbi Momigliano wrote.
Hundreds of young Italians gathered in Genoa to help the local population; these youngsters who voluntarily mobilize after a flood in Italy have been named "Angeli del Fango", i.e. Mud Angels.
*Simone Somekh is a student at Bar-Ilan University, Israel, and writes as a freelancer for the Jewish Italian press.