NEWS Exhibition about Wojtyla and the Jews Moves from Rome to Krakow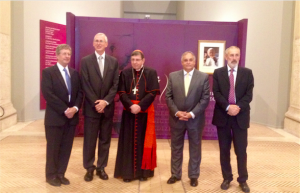 By Francesca Matalon
The exhibit "A Blessing to One Another – Pope John Paul II & the Jewish People" ended last week in the Vatican City and is ready to travel to Krakow, where it will find its permanent house at the John Paul II Center. The announcement of the donation came at the closing ceremony of the exhibition that portrays John Paul II's footsteps from his childhood to his role as head of the world's largest church. It also explores the Pope's contributions to relations between the Catholic and Jewish faiths.
"This exhibit tells the story of two young boys, two friends that are finally going back home together," said rabbi Abie I. Ingber, director of the Center for Interfaith Community Engagement at Xavier University in Cincinnati and one of the curators. The two young boys that he mentioned are Karol Wojtyla himself and his lifelong friend Jerzy Kluger, a Jewish child born and raised in his same hometown, Wadowice, only a few kilometers from Krakow. Kluger, who later in life moved to Rome, was always an important reference for John Paul II and a source of inspiration in his views on interreligious dialogue.
Together with rabbi Ingber, the other curators are James Buchanan, director of Xavier University's Brueggeman Center for Dialogue, and William Madges, a theology professor. At the ceremony also Rome's chief rabbi Riccardo Disegni and cardinal Kurt Koch, president of the Commission for the Relations with the Jews, gave a retrospective on the exhibit's legacy in the relations between Jews and Catholics.
"The images of John Paul II entering the synagogue in Rome for the first time welcomed by chief rabbi Elio Toaff, or praying in front of the Western Wall in Jerusalem, are unforgettable, they talk to the heart of people", rabbi Di Segni. "He made some very brave choices from the very beginning – he added – and was able to transform theology in concrete messages."
But the exhibition – with its interactive touch made of photos, video footage, documents and artifacts – covers all the stages of evolution of a relationship between faiths in which he always adopted openness as a basic principle, starting from childhood up to the pontificate. In this context, the friendship with Jerzy Kluger was a constant source of inspiration. Kluger lost his family in Nazi concentration camps, and after many vicissitudes moved to Rome after the war. There he met Wojtyła almost by chance, and from that moment he became one of his most trusted advisers.
Rabbi Ingber, who made all the interviews with Kluger featured in the exhibition, told Pagine Ebraiche about the depth of that friendship, based on dialogue and on the will of learning from one another. "Kluger was an extraordinary person – he said – and telling his story is important in order to teach that everybody can achieve great things, even without becoming pope".