NEWS President Rivlin Visited Rome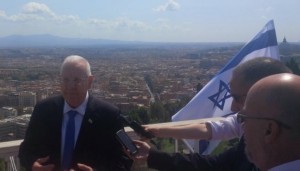 By Adam Smulevich
The president of Israel Reuven Rivlin visited Italy last week.
Among others, Rivlin met his Italian counterpart Sergio Mattarella and Pope Francis and he also visited the Great Synagogue of Rome. Among the topics discussed during his visit, were the future of Middle East, the international fight against terrorism, the bilateral relations between Israel and both Italy and the Holy See.
"As a child I promised myself that if one day I had held public office I would have strongly defended the values in which I believe: first of all, guaranteeing the right of every citizen to profess his religion," president Rivlin said in his speech at the synagogue, where he was welcomed by the President of local Jewish Community Ruth Dureghello, Chief Rabbi Riccardo Di Segni and the President of the Union of Italian Jewish Communities Renzo Gattegna.
In his remarks, Rivlin stressed the dangers of the agreement signed in Vienna on Iran's nuclear capacity. "The threat – he warned – is terrifying for the whole world. A summer of diplomacy can't change reality so radically."
Addressing Roman Jews he also said: "Israel is a democracy and welcomes anyone who recognizes this value. But it's important to stress that our invitation is not a political issue. It doesn't question the right of Jews to live as free citizens of any other country."
"We are on Israel's side regardless of who governs it, we do not care about the name of the prime minister and the party of origin. We stand for Israel, because we feel it is a part of ourselves," Dureghello noted, opening the ceremony. "We are proud to be Italian citizens and we want to keep our Jewishness and our support for Israel separate. But we know that this State is the only guarantee of survival for the Jewish people."
"Sixty-seven years ago, there was a significant coincidence that affected both Italians and Jews all over the world, since they started a new era and a new life after the horrors of war and the attempt to genocide perpetrated by the Nazis and Fascists," Gattegna said.
"In the same year, 1948, the state of Israel was founded and Italy became a republic."
Since that moment, Gattegna noted the relationship between the two countries has developed marked by solidarity and friendship, a relationship "that has continued to this day."
"Your visit to Rome – rav Di Segni said to president Rivlin – comes in an historic moment of rare substantial well-being for the Jewish people and the State of Israel but no one hides the problems we face and the dangers that threaten us." The right thing to do, according to Rav Di Segni, is to keep confidence in the future "like our brothers do in Israel". Rav Di Segni also emphasized the fact that Rivlin claimed a Roman ancestry dated a thousand of years ago. "A thousand of years might seem a long period but are less than half of the history of Roman Jews."