NEWS After Paris Attacks, the Solidarity of Italian Jews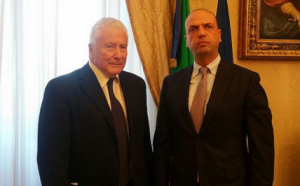 By Adam Smulevich
Regarding the terror attacks in Paris, the president of the Union of Italian Jewish Communities Renzo Gattegna said: "There is a terrible threat against our democratic societies, a threat that was underestimated for too long. In front of this threat no hesitation is possible, but it is indeed crucial to join efforts to protect the most valuable asset we have: freedom. Today more than ever it is important to be united. Today more than ever it is important to say 'Je suis Paris', but also to translate these words into a concrete commitment. We are facing a real war of civilizations."
Gattegna discussed security issues with Italian Interior Minister Angelino Alfano, who received him together with European Jewish Congress delegate Alessandro Ruben.
"It was a relevant meeting, during which the absolute priority that Italian institutions reserve for security was confirmed. Their effort will be further strengthened for the protection of schools, synagogues and Jewish institutions as well," the President of the Union said in a note.
"We guarantee, as always, our best efforts at the institutional level," Minister Alfano confirmed.
The meeting was also joined by the two presidents of the Jewish Community of Milan, Raffaele Besso and Milo Hasbani, the president of the Jewish Community of Rome Ruth Dureghello and security expert Gianni Zarfati.
About what happened in Paris, Alfano also said: "The threat is big and zero risk does not exist. But we'll win, this is a certainty. What we do not know is the price we will have to pay in terms of human lives, what will become of our current way of life and our freedom of today."