EVENTS The Meaning of Nostra Aetate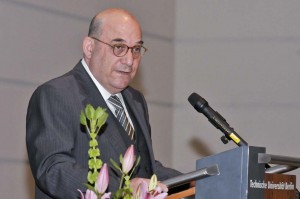 By Rachel Silvera
This year marks the fiftieth anniversary of Nostra Aetate, the Vatican declaration promulgated in 1965, which has consistently improved the relations between Jews and Catholics.
A little over 800 years have passed also since the Fourth Council of the Lateran, which in 1213 formalized anti-Jewish measures that brought to the isolation and centuries of suffering.
To remember these events, the Pontifical Lateran University organized a conference with the former Israeli ambassador to the Holy See Mordechay Lewy and the professors of the Lateran University Michael Maier and Achim Buckenmaier.
Ambassador Lewy was then given the task of summarizing the relationship between Christians and Jews in the last 800 years, starting with the figure of Pope Innocenzo III, leader of the Fourth Council of the Lateran.
"Innocent III, who is considered the pope who shaped the Church as a centralizing power, expressed several times its intransigent position towards Jews," the ambassador recalled.
The second part of his speech was focused on the Second Vatican Council and on the Nostra Aetate itself.
A key role in this process – stressed Lewy – can be attributed to Cardinal Augustin Bea, Pope Roncalli and Jules Isaac, who was a Jewish historian who had lost his wife and daughter during the Holocaust. The road to arrive at Nostra Aetate, the diplomat pointed out, however, was very hard, marked by a few missteps and hesitations.
"It is said of Martin Buber that during an interreligious meeting, he observed that both Jews and Christians were waiting for the Messiah. For Christians he had already come once. For Jews, not yet. However Buber told his Christian friends to wait together and demanded that, when and if the Messiah arrived, no one would ask him if he had come for the first or second time," Lewy recalled.
"Right from the start, Nostra Aetate was perceived as an important factor. The work to be done, however, is still long. The old anti-Semitic prejudices die hard and we still have a long way to go," Buckenmaier added.