NEWS New Stolpersteine Placed in Italy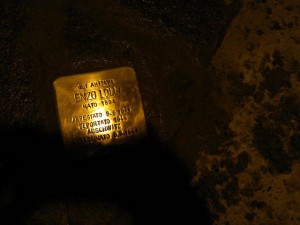 By Rachel Silvera
Every stone bears a story. Every stone reveals a name. Every stone remembers a life. A number of new stolpersteine (literally "stumbling blocks") were placed in Italy, in Rome and in Turin, to commemorate the victims of Nazi-fascist persecution. Created by German artist Gunter Demnig twenty years ago, the stolpersteine are placed outside the houses of Holocaust victims to remember them. Every stone bears the name, the age, the birthdate and place of deportation and, if known, the year of death of the victim. The project was developed by Demnig to keep alive the memory of those who never returned to their homes all over Europe.
In Rome 11 new stolpersteine were added to the 226 already installed, while Turin now counts 40 new stones. Adachiara Zevi, who heads the association "Arte in Memoria" (Art in Memory), explained: "Since 2010, we have placed over 230 stones in Rome. Demnig's idea has taken a step forward and its artwork has become a real map of European Memory, reaching a total of 56,000 stolpersteine in different cities".
"What I appreciate about this initiative, she further said, is that we are faced with an anti-hierarchical monument that stimulates the smallest place of memory that exists. A monument never concluded that seeks to restore the identity of more than 10 million victims of persecution."
In Rome the project was sponsored by Municipio I, II, VI, XIII, the Embassy of Germany and received the patronage of the President of the Republic, the Coordination Committee for the Celebration in Memory of the Holocaust, the Presidency of the Council of Ministers, of the Union of Italian Jewish Communities, and of the Jewish Community of Rome. In Turin it was sponsored by the Turin Jewish Community, the Goethe Institut Turin, the Aned (the National Association of ex-deportees to the Nazi camps) and the Giorgio Agosti Institute.