NEWS Italy and Israel Together for Peace and Security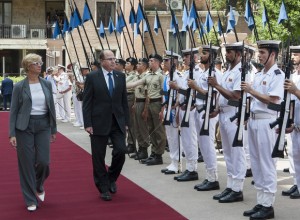 By Daniel Reichel
The Israeli Defense minister Moshe Yaalon visited Rome last week and met with the Italian Defense minister Roberta Pinotti and several military officials.
"The bilateral talks focused on the mutual commitment to seek an area of peace and security in the Eastern Mediterranean," said a statement from the Italian Ministry of Defense on the meeting with Yaalon. The Israeli minister had previously met with the Chief of Staff and had visited the Operational Command and the Commander in Chief of the Naval Squadron.
"The two ministers expressed their willingness to consolidate the ongoing collaboration between the armed forces of the two countries on security issues," said the officials of the Italian Ministry.
During his visit to Rome, Yaalon also met the president of the Union of Italian Jewish Communities, Renzo Gattegna and the president of the Jewish Community of Rome, Ruth Dureghello.
The visit of Yaalon in Italy is a sign of the strong collaboration between the two countries, said the Defense minister. In September, the prime minister of Israel Benjamin Netanyahu is expected to be in Milan and visit the Israeli Pavilion at Expo. The Israeli Embassy in Rome suggested organizing a bilateral summit between Italy and Israel in Milan.