NEWS Independence and Security Italy's Conditions to Palestine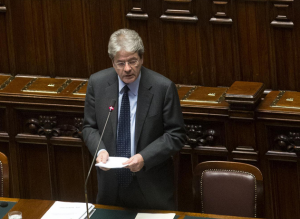 By Daniela Gross
Italy's Lower House approved two motions on the issue of Palestinian statehood. The motion from the Democratic Party of Prime Minister Matteo Renzi was approved with 300 votes in favor. Its text commits the Italians government "to continue to support the goal of … establishment of a Palestinian state living in peace, security and prosperity next to the state of Israel, on the basis of mutual recognition." The second motion, promoted by the New Centre Right, didn't mention recognition of a Palestinian State but instead called for direct negotiations between Palestinian leaders and Israel.
The votes are symbolic and do not change the Italian government's position, which is to promote a two-state solution. They follow the resolution adopted in December by the European Parliament supporting Palestinian statehood in principle. The recent vote confirmed the line indicated by the President of the Italian Jewish Communities Renzo Gattegna. Commenting on the Italian vote in favor of Palestine as a non-member state with observer status at the UN, he reminded us that only direct negotiations between Israel and the Palestinian National Authority "can make the peace process take decisive steps forward. This process could be weakened, on the contrary, by one-sided initiatives not previously agreed on by the UN and at other international organizations."
The Israeli Embassy in Rome expressed satisfaction for the emphasis accorded to the negotiations by the motions approved. "We positively welcome the Italian parliament choosing not to recognize a Palestinian state and opting to support direct negotiations between Israel and the Palestinian[s] on the basis of principle of two states, as the right way to pursue peace," it said in a statement.
Israel has said recognizing Palestinian statehood is premature and will make the Palestinian authorities less inclined to engage in peace talks.