NEWS Historic Bar-Mitzvah in Mantua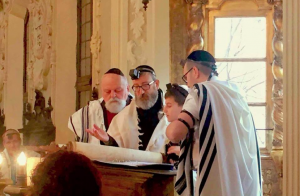 By Adam Smulevich
The Jewish community of Mantua, one of the smallest in Italy, celebrated the third bar-mitzvah in just a few months. The bar-mitzvah ceremony marks the moment that a boy becomes responsible for Jewish ritual law, traditions, and ethics. From this time he is able to participate in all areas of Jewish community life.
Alessandro Norsa, 13 years old, shared his emotions with the entire community and was assisted by the chief rabbi of Padua, rav Adolfo Locci, who stood with him on the bima.
"In accepting the commitment of the observance of the Torah, you become an individual on your own, set within a community, with the ability and duty to influence it," rav Locci told Alessandro in his Davar Torah.
"It was a very touching moment for all of us and is a concrete demonstration of the will of our community to keep alive its traditions and its values," the president of Jewish Community Emanuele Colorni stressed after the ceremony.
Entering the age of majority, Alessandro wanted to remember his grandfather Fabio Norsa, historic leader of the local community and also appreciated counselor of the Union of Italian Jewish Communities, who passed away only a few years ago.
"We greatly miss our Fabio. As the current president, I hope to carry on his work with the essential help of young people," concluded Colorni.