NEWS The Jewish Community of Rome Gets Ready for Elections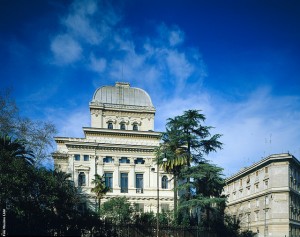 By Adam Smulevich
Four lists will compete in the upcoming elections of the Jewish Community of Rome: "Per Israele" (i.e. "For Israel", lead by Ruth Dureghello), "Menorah" (lead by Maurizio Tagliacozzo), "Binah-Cer posto per tutti" ("Binah-Cer, Room for Everyone", lead by Claudia Fellus), "Israele siamo noi" ("We are Israel", lead by Fiamma Nirenstein). The election will take place on June 14 and will assign 27 places in the new Council of the Community.
Dureghello, who is the member of the current board in charge of Community schools, is running together with Edoardo Amati, Edith Arbib Anav, Giovanni Ascarelli, Stefania Astrologo, Piero Bonfiglioli, Eugenio Calò, Daniela Debach, Ruben Della Rocca, Bruno Di Gioacchino, Serena Di Nepi, Roberto Di Porto, Cherie Dyana Fadlun, Micol Finzi, Daniel Funaro, Alain Gelibter, Roberto Guetta, Isacco Jack Luzon, Lello Mieli, Claudio Moscati, Giacomo Moscati, Giordana Moscati, Donatella Pajalich, Elio Raccah, Angelo Sed, Gadiel Gaj Tachè e Antonio Toni Spizzichino.
Tagliacozzo, an entrepreneur, will run together with Ariel Arbib, Doris Arbib, Deborah Astrologo, Ilan David Barda, Massimo Bassan, Walter Bedussa, Ruben Benigno, Guido Coen, Roberto Coen, Alessandro Di Veroli, Fabrizio Fiano, Massimo Gai, Deborah Guetta, Roger Hannuna, Fabrizio Manasse, David Meghnagi, Emilio Nacamulli, Alessandra Piperno, Sandro Sermoneta, Dalia Sestieri, Ruben Spizzichino, Serena Terracina, Amos Tesciuba e Sara Tikvà Tesciuba.
Fellus a health expert will run together with Lorella Ascoli, Valeria Calò, Fiorella Castelnuovo, Sabrina Coen, Brunella Di Castro, Fabiana Di Porto, Ariela Massarek, Silvia Mosseri, Simona Nacamulli, Eva Ruth Palmieri, Laura Perugia, Anna Piperno, Stella Sermoneta, Loredana Spagnoletto, Alessandra Spizzichino, Cinthia Spizzichino e Silvia Luperini.
Nirenstein, a journalist, will run together with Marco Sed, Robert Hassan, Giorgia Calò, Alberto Ouazana, Raffaele Pace, Roby Dagan, Giorgio Israel, Marco Della Rocca, Fabio Mieli, Emanuele Di Segni, Alberto Spizzichino, Alberto Piazza O Sed, Tiziana Della Rocca, Marco Sed, Roberto Perugia, Massimiliano Calò, Felice Guetta, Barbara Vivanti, Giancarlo Di Castro, Davide Spagnoletto, Pacifico Di Nepi, Fabio Cristofari, Yacov Naim, Daniel Di Porto, Aldo Astrologo, Sandra Calò.
For the first time in 22 years, the current president Riccardo Pacifici will not compete in the elections as he has reached the limit of three consecutive mandates as leader of the Community.