CULTURE Umberto Eco: Surfing in a sea of books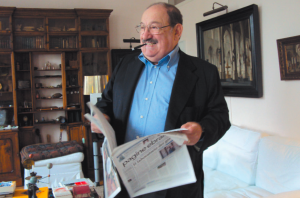 By Daniela Gross
When, a couple of weeks ago, a dear friend texted me that Umberto Eco had died, I felt a strange pang of emotion. It always happens, when a teacher of ours leaves us. However, my relation to his teaching has nothing to do with semiotics but rather with his Come si fa una tesi di laurea (How to write a graduate thesis). I loved that book, even though it was not a literary milestone. With his practical suggestions and his plain, accurate, and cultured prose, it was like a sip of fresh oxygen for a student like me, about to collapse amongst flash cards and archives.
Through the years, I found the same accuracy and levity in his countless interviews, essays and books. And it happened again when I went to meet him, along with the editor in chief of Pagine Ebraiche Guido Vitale, for an interview dedicated to his new book, The Prague Cemetery. Meeting someone beloved through his writing may be disappointing, because not always the man and the writer share the same heights. But in this case it did not go that way, because he was even more interesting, funny, and cultured than his books.
We spent a couple of hours with him, in his nice house in Milan's center. Everything around him spoke of an immense love of life and culture: the paintings on the walls, the collections of small objects, and the endless sea of his books, unfolding through his entire apartment. His vitality was reflected by his speech.
Never boasting or exhibiting his deep and vast culture, he told us about his new novel, his passion for antique books, and his habit of deeply documenting all his stories. Openly, he expressed some worries, for having written about famous anti-Semitic fakes such as The Protocols of the Elders of Zion, from which The Prague Cemetery was inspired. He knew really well that anti-Semitism is always just around the corner.
We left the house along with him, and only when we started walking I realized how old he was. There was a vague frailty in his movements while leaning on a cane, which at home, amongst his books, he never showed. So, this is the way I like to remember him, like a young man smart, witty, and nurtured by a deep passion about all the creations of the human spirit: like a teacher, who, surfing in his boundless sea of books, showed to an entire generation how to decipher the contemporary world.