CULTURE From the Ghetto of Venice to the Risks of New Media Pagine Ebraiche Participates in History Festival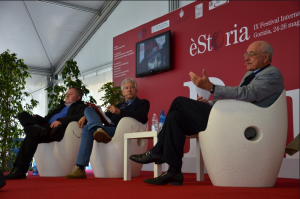 By Pagine Ebraiche staff
The Ghetto of Venice and the risks entailed by the use of new media will be the themes of two events organized by the Italian Jewish paper Pagine Ebraiche at the prominent History Festival èStoria.
Every year, the History Festival èStoria held in Gorizia, a northeastern Italian town bordering Slovenia, gathers historians, writers and journalists from all over the world and connects them with an audience which is not only passionate about history, but truly believes that history is the tool to better reflect and understand the issues of the contemporary world.
The main theme of this year's edition (May 19-May 22) will be "Slaves", liberties denied, the struggle for freedom.
The year 2016 marks the 500th anniversary of the establishment of the Ghetto in Venice. On May 20, the editor-in-chief of Pagine Ebraiche, Guido Vitale, will discuss on the concept of ghetto and how it evolved. He will be joined by historians Anna Foa, Simon Levis Sullam and Donatella Calabi, a specialist on the history of urbanism.
Do new technologies risk to enslave contemporary societies? From the steam engine, to social networks, the question will be analyzed by Ubaldo Fadini, professor of Philosophy at the University of Florence, Giuseppe O. Longo emeritus professor of Theory of Communication at the University of Trieste, and sociologist Nicola Strizzolo. Introducing the debate will once again be Guido Vitale.