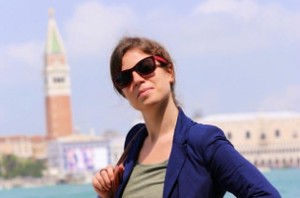 By Susanna Calimani*
I did it. I have always tried not to, but finally I did. And, frankly, I do not even feel that bad about it.
It all started the week before: Martino, a friend and colleague of mine, had told me that Edith Erbrich would have come to the bank to have a public talk, but only 30 people could participate and the deadline to register to the event was already passed. It took me some time to write and rewrite that email, maybe more than all the time spent pondering the words of all the emails sent to university professors; when you still think that they will actually notice whether you wrote "pondering" instead of "weighting", or maybe "weighing" without the "t".
The email was well structured: greetings, introducing myself, the event, I know the deadline has passed, there are no more seats left, the reason, thanks a lot, let me know, oh and by the way "half of my family has been deported from Venice during the war, blablabla, I believe you can easily understand how moving and important such a talk would be to me." Send. 
Done, I did it.
1..2..3..4..5.. ringtone: "Hello Susanna, of course you can come." 
Yes, Edith Erbrich is not a big expert in monetary policy or bank regulations, she is a strong and wonderful red hair woman in her mid-seventies, who used to live across the street when she was 5 years old, hid in the street I bike through every morning, gathered by the Nazis where I now take the coffee and – on the railroad I sometimes run along – deported to Tereszin. She was one of the 600 people who made it back to Frankfurt, together with her older sister and father, and managed to reunite with her mother.
The moment she started to give names and description to people I started to cry, I asked a tissue to the lady with hijab next to me, who had been sobbing for longer than me; apparently we were almost the only two getting emotional.
The moment Edith stopped talking I went to hug her and thank her, and seeing my voice drowning in my own tears she asked me "Did my story touch you?"
All I could say was the sentence I had pondered so much: "Well yes, half of my family has been deported from Venice during the war". 
Both her parents were buried in the Christian cemetery in Frankfurt, since her mother was not Jewish and she could not be buried with her husband in the Jewish one.
Sometimes I believe that rules are made to find workarounds for very special cases, it is just a matter of understanding "how moving and important such a thing would be".
*Susanna Calimani is a wandering economist, currently based in Frankfurt.