NEWS Emeritus President of Italy Wins Award for His Effort to Strengthen Italy-Israel Ties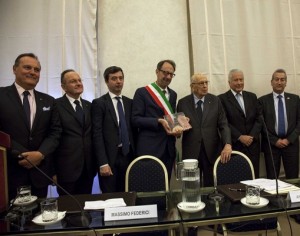 By Adam Smulevich
 
The former President of the Italian Republic Giorgio Napolitano won the "Premio Exodus", an international award given by the municipality of La Spezia, a city in the Liguria region from where 23,000 Jewish displaced persons managed to leave Italy clandestinely for Mandate Palestine in the period between 1945 and 1948. 
 
The award has been given to Napolitano in consideration of his strong effort to build and improve the ties between Italy and Israel during his political career. The prize was given out by the mayor Massimo Federici together with the president of the Union of Italian Jewish Communities Renzo Gattegna and the Minister of Justice Andrea Orlando. The ceremony took place last Thursday.
 
"Seventy years ago, the help that our city gave to the survivors of the Shoah represented the first gesture of reparation and friendship towards what in a few years was going to become the State of Israel. President Napolitano cemented the relationship between our two countries and for this we are here today," mayor Federici stressed in his remarks.
 
"President Napolitano has tirelessly worked to protect the Memory of the Shoah, and above all to promote and establish peace in the Middle East. His words and actions have always been up to his role," Gattegna said, remembering the numerous meetings and joint initiatives of the last decade.
 
Moved by the recognition, President Napolitano recalled some fundamental moments of his commitment, such as the historic mission to Israel in 1986 as the head of foreign affairs for the Communist Party, his friendship with Shimon Peres, and the initiatives that he led to cement a political and cultural bridge between Italy and Israel.