NEWS Italian Minister of Education Giannini and UCEI President Gattegna Visit Israel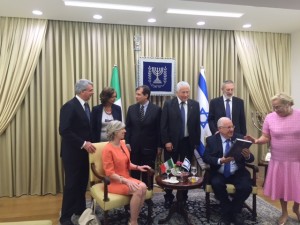 By Pagine Ebraiche Staff 
The Italian minister of Education, Universities and Research, Stefania Giannini visited Israel last week. The minister was accompanied by the president of the Union of Italian Jewish Communities Renzo Gattegna, the Italian ambassador, Francesco Talò, and the cultural attaché to the Italian embassy, Elena Loewenthal. Minister Giannini's visit was focused on the cooperation between the two countries in the field of education, culture and scientific research. 
A delegation of the Conference of the rectors of Italian universities also traveled to Israel so as to take part in a number of conferences, workshops and debates on different subjects organized by the Italian Embassy in Israel. This was only one effort in to celebrate 15 years of scientific cooperation between the two governments. The visit was also the occasion to sign new protocols and agreements between Italian and Israeli universities.
Giannini also met the Israeli ministers of Education and Science, Naftali Bennett and Ofir Akunis, the former president of Israel, Shimon Peres and current president Reuven Rivlin. Minister Giannini presented each one with a copy of the first Italian translation of the Tractate Rosh Hashanah from the Babylonian Talmud. With her as well were the chief rabbi of Rome, Riccardo Di Segni and Clelia Piperno, head of the translation committee and director of the project. 
The visit was also an occasion to stress the rejection and condemnation of the Boycott, Divest and Sanctions movement by the Italian government. "BDS is wrong in principle and wrong in practice," she said, speaking at the reception for the Italian Day of the Republic at the residence of ambassador Talò on June 2.
Giannini also traveled to the Negev, where she visited the Jewish-Arab school Hagar, the burial site of David Ben Gurion and Ben Gurion University.