NEWS 'Merchant of Venice' to Be Staged for First Time in Italian Jewish Ghetto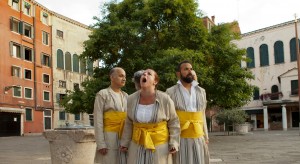 William Shakespeare's play "The Merchant of Venice" will be staged for the first time ever in the city's Jewish ghetto on its 500th anniversary, which coincides with the 400th anniversary of the famous playwright's death.
Six performances will take place in the Jewish Ghetto, between July 26 and July 31, in English and other languages. On the second day of the play's run, a mock court hearing will be held with real lawyers and a jury, led by US Supreme Court Justice Ruth Bader Ginsburg. The productions are organized by Compagnia de' Colombari, an international collective of performing artists based in New York, and the Ca'Foscari University of Venice. Sponsorship is provided by the NGO Beit Venezia, according toThe Economist.
The set of performances in July are part of the official program of the Ghetto Quincentennial, which consists of various independent activities that mark the anniversary of the formation of the Jewish Ghetto of Venice. The main event is an exhibition titled "Venice, the Jews and Europe, 1516–2016," which aims to describe the process that led to the "creation, implementation and transformation of the first 'fence' for Jews in the world," according to the exhibit's website. The display opened on Sunday at the Doge's Palace in Venice.
March 29 marked 500 years since Venetian authorities ordered Jewish residents of the city to move into an area near a foundry, which is called "geto" in Venice dialect, though over time the neighborhood's residents changed it to "ghetto." Jews were forcibly segregated and given 48 hours to leave their homes. They were also forced to pay their new landlords 30 percent more in rent than the outgoing Christian tenants, The Economist reported.
*This article was published in The Algemeiner on June 20, 2016.