NEWS Group of Italian Soccer Fans Who Gave Fascist Salute Receives Strong Condemnation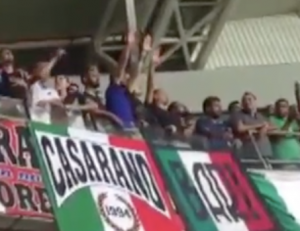 By Adam Smulevich
 
Carlo Tavecchio, the president of the Italian Football Federation, strongly condemned the behavior of a group of Italian fans who gave fascist salutes before the match between Israel and Italy in Haifa last Monday. The game was the first World Cup qualifier match.
 
The episode, which is still under investigation, was brought to public attention by our daily newsletter Pagine Ebraiche 24 and our website, www.moked.it, both quoted by major Italian and international newspapers. 
 
The Israel Football Association transferred the photos to their Italian counterpart in order to identify and reach out to fans responsible for this manifestation of hatred.
 
During a phone call with the Italian ambassador of Italy to Israel Francesco Maria Talò, president Tavecchio took the opportunity to thank the Ambassador and all his staff, local authorities and the Israeli Association for the welcome received on the occasion of the match. They also thanked them for the minute of silence that the stadium observed in remembrance of the 295 victims of the recent earthquake in central Italy.