NEWS Italian Jewish Umbrella Group Prepares Low-cost Passover Care Packages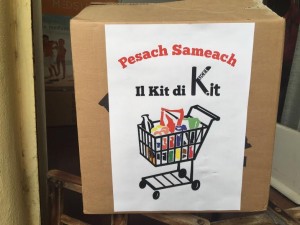 By JTA
The Italian Jewish community is making available low-cost Passover care packages to aid struggling families.
In cooperation with several kosher food producers, the Union of Italian Jewish Communities, or UCEI, is putting together 500 cartons containing seder fixings and other kosher-for-Passover products — among them matzo, wine, cold cuts and sweets.
The packages will be distributed among Italy's 21 established Jewish communities at the beginning of next week and will be on sale for 20 euros, or $23, each, the UCEI announced.
The project falls under the sponsorship of the UCEI's kashrut department and kosher certification agency.
"It's an initiative marked by the desire to reach out to those who are in financial difficulty" with "concrete aid," Jacqueline Fellus, director of the project and the UCEI official responsible for kashrut, told the UCEI information portal, Moked.
About 24,000 Jews are affiliated with Jewish communities in Italy. More than two thirds of them live in Rome and Milan.
In 2012, the Jewish community of Rome, which has 12,000-15,000 members, had approximately 300 welfare cases, of which 90 were families with children.