NEWS Italian and Slovenian Towns of Gorizia Reunite in the Name of Their Jewish Past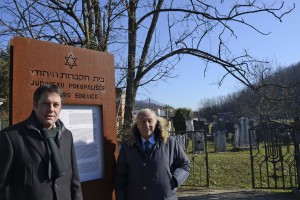 By Ada Treves
Dario Disegni, president of the "Fondazione Beni culturali ebraici in Italia" (FBCEI) – i.e. the Foundation for Jewish Cultural Heritage in Italy, the non-profit organization established by the Union of the Jewish Communities of Italy (UCEI) to promote the preservation, restoration and development of Jewish Cultural Heritage in Italy – met with the mayor of the Slovenian town of Nova Gorica Matej Arcon and the mayor of the Italian town of Gorizia Ettore Romoli.
The unprecedented meeting took place on the border between the two countries, in Valdirose, just a short walk from a mythical frontier, scene of many dramatic events of the twentieth century, and the last fraction of the Iron Curtain to fall, to give way to a new Europe.
The two Gorizias, once painfully torn because of the Cold War and because of political and ethnic rivalries, are now united again in the name of Jewish Gorizia.
The meeting took place at the entrance of the ancient Jewish cemetery, with its memories of some of the important characters that have left their mark on the European culture of the last century, from philosopher Carlo Michelstaedter to linguist Graziadio Isaia Ascoli and journalist Carolina Coen Luzzatto. Jewish Gorizia has an international soul, with the Jewish cemetery on the Slovenian side of the border and the magnificent synagogue overlooking the Isonzo on the Italian side. Now a cross-border project to restore and give the sites back to their value has obtained a serious commitment by local governments, institutions for economic, cultural and touristic development on both sides of the border. In an area where the Latin, the Slavic and the Germanic European identities meet, the project aims at giving back to Jewish Gorizia that integrity that the persecutions had stolen.
The meeting was organized by the editorial staff of the Union of Italian Jewish Communities together with Dario Disegni, who has just been appointed president of MEIS (the national Museum of Italian Jewry and of the Shoah in Ferrara). With them there was the delegate of the board of the Jewish Community of Trieste Livio Vasieri and architect Andrea Morpurgo, board member of FBCEI, professor of urban planning at the University of Madrid and recent author of a study on Jewish cemeteries in Italy.