VENICE AND THE GHETTO An Exhibit at the Museum of Italian Jewish Art in Jerusalem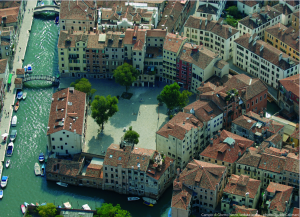 Closing a year full of events marking 500 years of the Ghetto of Venice, the U. Nahon Museum of Italian Jewish Art in Jerusalem opens a new exhibition offering an original perspective. The new exhibition opened for the festival of Sukkot, the 18th of October 2016.
Beginning in 1516, the Ghetto of Venice was established as a restricted area where the Jewish population was required to live. This pragmatic decision both included and isolated the Jews from their non-Jewish neighbors. Five hundred years after its institution and a century and a half after the destruction of its gates, the concept of the ghetto still echoes through history, and raises questions of migration and identity in our own time.
The segregation in the ghetto was undoubtedly painful, harsh and inequitable but on the other hand provided a measure of protection and a safe space for growth and cultural circulation beyond governmental regulations. The cosmopolitan Jewish Community of Venice was able to develop in these difficult conditions a rich cultural life, to scrupulously practice religion, to produce gorgeous ritual art, and to create diverse forms of social assistance and mutual solidarity.
Material fragments of the glorious history of Venetian Jewry reached Jerusalem after WW2 and from there they tell us today their history, because many histories and narratives from the Venetian ghetto can be imagined and are embedded in these fascinating pieces.
The exhibition marks the quintecentennial year of the Jewish Ghetto of Venice, calling attention to the ambivalence of the ghetto institution and the interaction between Jews and the Venetian Republic throughout the long history of Jewish residence
in the lagoon.
The Museum itinerary, completely new and re-designed, suggests a movement from outside to inside: from the town of Venice to the ghetto court, to the interior of Jewish houses in Venice, and finally to the heart of the community, the synagogue, with its rich treasures.
At the center of the exhibition, a rare 18th century Venetian sukkah represents the concept of temporary dwelling within the ghetto, a space established as a recognizable home for Jews.
The re-installation of a Venetian Schola in Israel with the reconstitution of the Conegliano Veneto Synagogue for the Italian Jewish Community of Jerusalem, closes the exhibition, representing homecoming and the completion of the circle of the Jewish itinerant story.
The exhibition is enriched by a beautiful color catalogue authored by the exhibition curator with a foreword by Jack Arbib.
Location: The U. Nahon Museum of Italian Jewish Art, Jerusalem
President of the Museum Board: Jack Arbib
Executive Director: Gilad Lavian
Exhibition:
Curator: Andreina Contessa
Design and Production: Esh Binimov
Multimedia Production: Moshe Caine, Hodaya Toledano and Avigail Leibtag
Video Production: Museums in Israel – The National Portal, The Israel Ministry of Culture
*This article was published in the website of the Association of European Jewish Museums.