ITALICS Italian Coins Discovered in Crusader-Era Ship Wreck Off Israeli Coast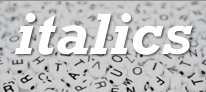 By Naomi Zeveloff*
Thirty gold coins were found amid the remains of a Crusader-era shipwreck discovered off the coast of Acre in northern Israel last week.
The coins are "florins" from Florentine, Italy, according to the Israel Antiquities Authority.
The coins likely sank with the ship, which was one of several vessels to try to flee Acre when Mamluk sultan Al-Ashraf Khalil invaded in 1291 to drive out the Crusaders, according to Haaretz.
Europeans who tried to leave Acre at the time bribed boat owners in order to escape. Archaeologists also found ceramic jugs and bowls from southern Italy, Cyprus and Syria in the ship wreck.
But the boat apparently didn't make it far, wrecking in the bay of Acre.

*The article was published in The Forward on March 21, 2017.