NEWS Italian Ministry of Economic Development Met Israeli Minister of Energy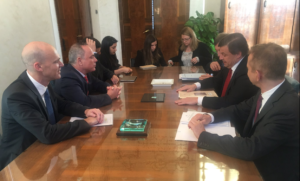 By Daniel Reichel
The Italian Ministry of Economic Development Carlo Calenda met with the Israeli Minister of Energy Yuval Stenitz last week in Rome.
The two ministers analyzed the current situation and the prospects for the energy market in the Mediterranean as well as the possibilities for the development of gas production in the Middle East.
Calenda confirmed Italy's goal to become the energy hub for Europe and in this context, reiterated its support for the EastMed project, the offshore gas pipeline that would bring the Eastern Mediterranean gas resources in Europe, through Cyprus and Greece.
The project is currently being examined by the European Commission.
The Ambassador of Israel in Italy Ofer Sachs told Pagine Ebraiche that Calenda would be in Jerusalem next month for a meeting in which the energy project that involves Israel and Italy will be discussed.
In Rome Minister Steinitz also met with the Minister of Foreign Affairs Angelino Alfano. "All the meetings were very positive and some marked the first step for further collaboration," said ambassador Sachs.