ITALICS Rome's Jewish Community Boycotts WWII March Over Palestinian Participation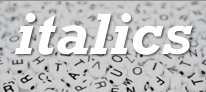 By Saviona Mane*
Rome's Jewish community decided to boycott this year's annual Liberation Day March on April 25, a national holiday in Italy.
Its members will stay away from the march organized by the National Association of Italian Partisans (ANPI) because Palestinian groups will be participating, according to an announcement issued by the head of the community, Ruth Dureghello.
"As an Italian and a Roman, I no longer feel that the partisans organization, which denies the contribution of the Jewish Brigade to the struggle against Nazi Fascism, represents me," Dureghello said. Instead, the Jewish community will hold an alternative ceremony to mark the liberation by the partisans and allies at the former site of the Jewish Brigades' headquarters.
"In wake of the ANPI decision to erase history and to allow the heirs of the Mufti of Jerusalem, who made an alliance with Hitler… to participate in the march with their flags, and after repeated harassment in previous years, the Jewish community of Rome decided to organize a separate demonstration to mark the liberation," the announcement stated.
Dureghello also objected to the partisans' association inviting the brigade to the march as a "foreign community" and remarked that the move "is unthinkable." She added that the organization no longer represents the real partisans of Italy.
The partisans' association expressed sorrow over the Jewish community's decision, but made it clear it had no intention of preventing the Palestinian community from joining the march.
Italy's ruling Democratic Party announced that it would skip the march in Rome for the second consecutive year because it had turned into a "divisive force." The party stressed that it would send its representatives to the Jewish community's alternative ceremony in Rome.
"Regretfully, the ANPI march in Rome divides instead of unites the city around the values of the fight against Nazism and fascism," Matteo Orfino, one of the party leaders said.
Meanwhile, the city of Milan announced that it would move to prevent pro-fascist demonstration in events that neo-fascist groups are organizing that same day in the local cemetery. "We cannot close cemeteries, but we will move to prevent neo-fascist demonstrations," Mayor Giuseppe Sala.
*This article was published in Haaretz, on April 22, 2017.