EVENTS The Exodus of Jews from Arab Countries at the Center of Moked 5777
By Daniel Reichel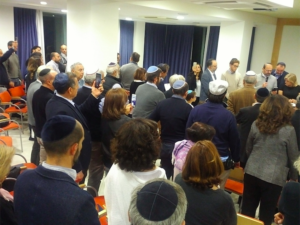 The Mokéd 5777, the traditional convention of Italian Jewry that takes place every spring in Milano Marittima, is dedicated this year to the Exodus of the Jews from the Arab world and the 50th anniversary of this painful occurrence.
 
Organized by the Culture and Education Area of the Union of Italian Jewish Communities directed by Rav Roberto Della Rocca, the event was an occasion to discuss several topics with international guests, such as the integration of those Jewish families in Israel as well as in Italy.
 
The psychoanalyst David Meghnagi, who is from Libya, recalled what happened to him and underlined the experience of exile that the Libyan Jews had gone through. The issue was also covered in the speech of two international guests, Daniel Sibony, a French philosopher born in Marrakesh, and Joseph Chetrit, professor at Haifa University, who also has Moroccan origins.
 
Speaking of the relationship between the Islamic World and the Jews was Myrna Chayo, who teaches Arabic, as well as Cyril Aslanov, of the Hebrew University of Jerusalem.
 
The Italian situation, with the integration in the Jewish community of the Jews from Lybia, Iran, Syria, was the theme of the meeting with two sociologists, Betti Guetta and Enrico Finzi: they explained some of the critical points of the relationship between the newcomers and the reality that welcomed them.