NEWS Italian PM Visits Synagogue to Pay Tribute to Libyan Jews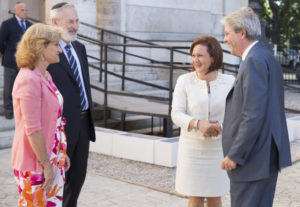 By Adam Smulevich
 
The Prime Minister of Italy Paolo Gentiloni visited the synagogue of Rome last week on the occasion of the fiftieth anniversary of the arrival of Libyan Jews in Italy.
 
"The Jewish communities in Italy are highly sensitive on the subjects of immigration and acceptance. They are aware of the tremendous efforts Italy has been making despite the difficulties, controversies and dangers so as not to close the doors to those who escape from war. Jewish Communities understand all of this because they have experienced it themselves personally," PM Gentiloni stressed this during his speech in the synagogue which was completely full. 
 
The Prime Minister also added: "The exodus of Jews from Libya has impoverished that country. Today, as a Christian I say we face the risk of further impoverishment of many countries for the marginalization or even departure of their Christian communities."
 
Words of great admiration were then addressed to Libyan Jews, who have been able to integrate and affirm themselves in Italy through culture and work. "Their stories, explained Gentiloni, are dramatic stories of an exodus from Tripoli and Benghazi that has managed to turn into something positive and hopeful."
 
A tribute was paid in particular to two figures of the Libyan community who have stood out in this half-century: Sion Burbea and Shalom Tesciuba. 
 
To welcome the PM to the synagogue were the chief rabbi Riccardo Di Segni, the president of the Roman Jewish community, Ruth Dureghello and the president of the Union of the Italian Jewish Communities, Noemi Di Segni.