NEWS Italian Jews Congratulates Minister Gentiloni on the Mandate to Form New Government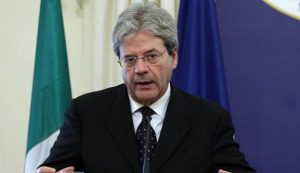 By Pagine Ebraiche staff
 
The president of the Union of Italian Jewish Communities Noemi Di Segni sent a message to Paolo Gentiloni, the country's current Foreign Minister, to congratulate him on his mandate to form a new government. Gentiloni received the mandate from Italian President Sergio Mattarella on Sunday, after the resignation of prime minister Matteo Renzi in the light of the results of the constitutional referendum held on December 4.
 
"We hope that the Quirinale's choice will receive the widest possible support of the Parliament and we hope that his government will be able to work in a serene political environment with the cooperation of all parties and groups who believe in the values expressed by the Constitution. In this way, we can better face the challenges that await the country," Di Segni wrote.
 
"Today more than ever there is a need for a solid democratic shield to respond efficiently to the risks that are threatening our future: from Islamic terror that threatens our values and prevents the growth of peace in the Middle East, from other signs of hatred in the Western world, be it digital violence in an attempt to disintegrate whole communities at the national and international level. As always, Italian Jews are ready to give their contribution to protect our national values of liberty and democracy," she concluded.