European Day of Jewish Culture – Sicily, an Island of Exiles, Returns and Destiny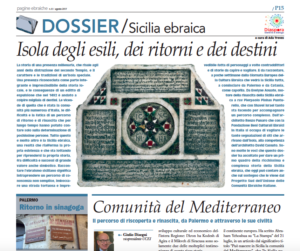 By Ada Treves*
The history of a thousand-year old presence, which dates back to the destruction of the second Temple, the characteristics and the traditions of a special island. A presence recognized as an integral and essential part of the local history and the consequences of an Edict of Expulsion which, in 1492, affected thousands of lives. The stories of Italy's largest Jewish Community, the troubles and the efforts of a rebirth which, for a long time, could only rely on the determination of a handful of people.
All this and more is the Jewish Sicily, a community which reaffirms its existence and is currently fighting to take back its history. If from one hand the Community is facing many difficulties, from the other hand it is having outstanding successes. Telling the world about the Italian Judaism means to start a learning process which is not easy at all, or in other words to take a winding and unpredictable road made up of conflicting characters and stories which still need to be understood.
We are a few weeks away from the European Day of the Jewish Culture, whose major focus will be the entire Sicily, starting with Palermo and Catania. We will discover many leading figures such as Evelyn Aouate, the one who mostly supported the rebirth of the Jewish Sicily, and Pierpaolo Pinhas Punturello who, together with Shavei Istrael, is doing a lot for the Community. Other important people are the architect Renzo Funaro who is working with the Foundation for Jewish Cultural Heritage in Italy to check the reports of sites coming from the island and the architect David Cassuto, known for his expertise. Many people have contributed to the making of this Dossier, whose major aim is to provide a first insight into the complex history of the Jewish Sicily, which today is also supported by the "Progetto Sud" of the Union of the Italian Jewish Communities.
*Translation made by Arianna Mercuriali, student at the Advanced School for Interpreters and Translators of the University of Trieste, intern at the newspaper office of the Union of the Italian Jewish Communities.