NEWS Bergoglio Visits the Ardeatine Caves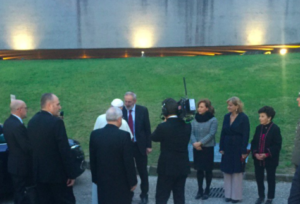 By Pagine Ebraiche Staff
Pope Jorge Bergoglio visited the Ardeatine Caves last week. The Caves were the site of a massacre carried out in 1944 by Nazi troops killing 335 people, including many Jews. Greeting the Pope were the chief rabbi of Rome Riccardo Di Segni, the president of the Union of Italian Jewish Communities Noemi Di Segni, the president of the Jewish Community of Rome Ruth Dureghello and the secretary of the Community Emanuele Di Porto.
"It was a moment of shared mourning, shared memory and shared hope," commented rav Di Segni.
"These are the fruits that war bears: hatred, death, vengeance… Forgive us, Lord," Bergoglio wrote in the Memorial book.
The Pope also recited a brief prayer. "God of Abraham, of Isaac, God of Jacob: with this name, You presented Yourself to Moses when You revealed to him Your desire to free your people from the slavery of Egypt. God of Abraham, God of Isaac, and God of Jacob, God who binds Himself in a pact with humanity, God who binds Himself with a covenant of faithful love forever, merciful and compassionate to every man and every people suffering oppression. "I have observed the misery of my people, I have heard their cry, I know their sufferings." God of the faces and names, God of each of the 335 men murdered here, on March 24, 1944, whose remains lie in these tombs. You, Lord, know their faces and their names: all, even those of the 12, who remain unknown to us. To You, no one is unknown".