NEWS 76 years later, Ardeatine Caves' victim identified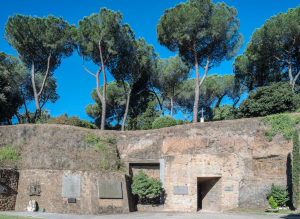 By Pagine Ebraiche staff
Marian Reicher, a Polish Jew, was 43 years old when he was killed by the Nazis in the Fosse Ardeatine massacre in Rome. 76 years later, his body has finally been identified through a DNA test comparing Marian's biological data with his son David's. David is currently living in Israel and made himself available to carry out such a test last September.
"One more missing piece has been found," wrote the Minister of Defence in a note, "thanks to the work by the General Commissariat for the War Fallen, with the help of the Carabineer's Scientific Investigation Department and of Florence University's Laboratory of Molecular Anthropology" and thanks to the collaboration that the General Commissariat for the War Fallen has started with the National Association of Italian Families' Martyrs of the Fosse Ardeatine and with the Jewish Community of Rome.
Between 2011 and 2012, they had identified the body of Marco Moscati, a Jewish partisan who was a major fighter in the Resistance in Lazio region, and of Salvatore La Rosa and Michele Partito, two other victims of the massacre. "Building on these results," reminded the Minister of Defence, "we managed to continue operating (since eight bodies still have to be identified)".
"Right before the April 25", said Noemi Di Segni, UCEI's President, "this long-awaited piece of news reminds us that Remembering does not only mean listening, but also actively participating by committing oneself and showing awareness. "The deepest gratitude of the whole of Italian Jewish community", underlined Di Segni, "goes to those who worked hard to make such achievements."
"Once we have overcome this health emergency," claimed the Minister of Defence, "we will host a celebration with David Reicher."
Translated by Sara Facelli and revised by Claudia Azzalini, students at the Advanced School for Interpreting and Translation of Trieste University and interns at the newspaper office of the Union of the Italian Jewish Communities.