FEATURES Luisella Ottolenghi Mortara, an Art Historian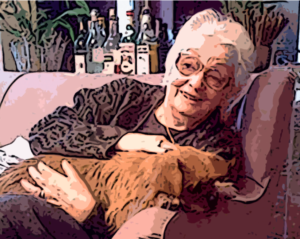 By Julie Carbonara*
Studying the past doesn't exclude being fully involved in the present, as the life of Luisella Ottolenghi Mortara, who has died aged 87, demonstrated. An art historian who specialised in illuminated manuscripts, Ottolenghi Mortara is credited with almost single-handedly reviving interest in the wonderful illuminations featured in many Jewish biblical manuscripts from the Middle Ages.
Not only did she unearth a treasure trove of masterpieces often lying forgotten on dusty library shelves, she also made a point of finding out the stories behind the works. In so doing she brought back to life the people and communities who had commissioned and manufactured them and succeeded in creating a snapshot of their era. She also discovered intriguing connections between Christian and Jewish illuminations.
Ottolenghi Mortara applied the same painstaking research and lively curiosity to her other passion, her work for CDEC – the Milan-based Jewish Contemporary Documentation Centre. A non-profit organisation, it aims to promote the study of Jewish history, culture and society, with special emphasis on Italy. As CDEC president from 1980 to 2004, Ottolenghi Mortara helped it strengthen and internationalise its research function. One of her proudest moments was the publication in 1991 of the Book of Memory, written by one of her close collaborators, Liliana Picciotto.
Luisa Bona (Luisella) Ottolenghi was born into a family that had been active in Italy's fight for independence in the 19th century. She was the daughter of Ada Valabrega and Guido Ottolenghi, who would later conduct his own fight against fascism and would instil in his daughter the desire to strive for a better society.
After the implementation of Mussolini's 1938 racial laws, Luisella attended a Jewish school in Turin before the whole family was forced to flee the region, finding shelter in the Ravenna area. There, with the help of the local anti-fascists they spent the 1943-44 period in hiding.
Ottolenghi Mortara would later recall how even during those difficult years her parents ensured their children "would not go mad." Even if they were cold and hungry and under the threat of German machine-guns her parents tried to make life "as normal as possible," insisting they do everyday things like going to school or getting vegetables from the garden.
After the war, Ottolenghi Mortara returned to Turin where in 1954 she obtained a degree in History of Art, specialising in the Byzantine period. As her scholastic reputation grew, she worked with the École des Hautes Études in Paris, Jerusalem's Hebrew University and Italian universities.
After her marriage to Amedeo Mortara, co-founder of the European Federalist Movement, in 1957, she moved to Milan where she became involved in CDEC in 1973. First as vice-president and then in her over 20 years as president, she worked tirelessly to collect and record as much information as possible on the Shoah and the stories of the people caught up in it.
Together with her husband, who believed that politics and ideals could — and should — co-exist, she never stopped striving for a better society, whether civil or religious. A councillor of the Union of Italian Jewish Communities from 1974 to 1978, she strongly believed in the need for dialogue between Jews and Christians and was on friendly term with the Archbishop of Milan, Carlo Maria Martini. Her contribution to Italian society was recognised in 2002 when the Italian President honoured her with the Grand Officer to the Merit of the Republic award.
Luisella Ottolenghi Mortara is survived by her daughter, Raffaella.

*This article was published in The Jewish Chronicle on November 30, 2017.