NEWS Florence, a Square to Say No to Hate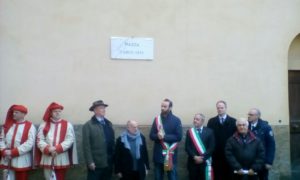 By Adam Smulevich
Carlo Levi Square, in the heart of Florence, is just a meeting point, it is also an ideal place where to say no to fascism and to all forms of violence and oppression.
The dedication of a square is usually a formal act, but if it is enriched by memories and first-hand experiences, emotions can only end up gaining the upper hand. This is exactly what happened on the left bank of the river Arno last week. A ceremony was held to unveil the plate of Carlo Levi, an intellectual and painter from Turin, now considered one of the most important custodians of the Remembrance and the anti-fascist vocation of Florence (together with Anna Maria Ichino, honored with the same tribute).
Collocated just a few meters from the place where the author wrote his masterpiece Christ stopped at Eboli in hiding, the plate marks the final act of a path of rediscovery and commitment which saw the collaboration of the municipal administration and the Uffizi Gallery, Florence's highest cultural expression.
"This is a symbolic act aiming at keeping alive the memory of Levi and Ichino's role in the anti-fascist struggle, as well as the evocative value of Pitti Square and of the house that sheltered lots of anti-fascists," announced the mayor Dario Nardella together with the director of the Uffizi Gallery Eike Schmidt during the last International Holocaust Remembrance Day.
This message was reiterated by the Municipal Board Member Andrea Vannucci, the Director of the Uffizi Library Claudio Di Benedetto, the President of the Regional Council Eugenio Giani, the Mayor of Aliano Luigi De Lorenzo, Carlo Levi's nephew Stefano Levi Della Torre and Anna Maria's son Alessandro Ichino, some of the most important protagonists of the ceremony.
Two unpublished works by Levi were moreover presented to enrich the exhibition of the author's masterpieces hosted by the Uffizi Gallery and the Modern Art Gallery. The first one is entitled Autoritratto di profilo (Profile Self-portrait) and dated 1973, is property of the Carlo Levi Literary Park in Aliano and is a real portrait of the author as an old man. The second one, entitled Antonio, Peppino e il cane Barone (Antonio, Peppino and the dog Barone), is part of a private collection and dates back to when Levi was confined in Lucca as an anti-fascist.
Also the local Chief Rabbi Amedeo Spagnoletto attended the ceremony.
Translation made by Francesca Antonioli, student at the Advanced School for Interpreters and Translators of Trieste University, intern at the newspaper office of the Union of the Italian Jewish Communities.