NEWS New stolpersteine stones installed in Florence and Bologna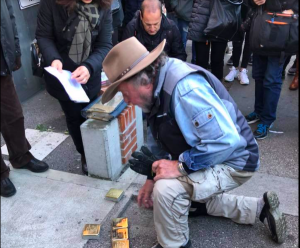 By Pagine Ebraiche staff*
Several new stolpersteine stones commemorating the victims of the Holocaust were laid down in Florence last week and more are scheduled to be installed before January 23, for a total of 24 new stumbling blocks. Other stolpersteine were installed in Bologna.
Created by German artist Gunter Demnig, the stones are commemorative brass plaques placed in the pavement in front of the last address of victims of the Nazi-Fascism regimes. Every stone reads the name, date of birth and death of the person it commemorates. Several thousand have already been placed in hundreds of cities all over Europe.
Six stones were laid in via del Gelsomino, honoring Rabbi Rodolfo Levi, his wife Rina Procaccia, their daughter Noemi, his sister-in-law Daniela Procaccia with her husband Angelo Sinigaglia and their daughter Ada. The ceremony was attended by Demnig, Florence deputy mayor Cristina Giachi, President of the Jewish Community David Liscia, chief rabbi Gadi Piperno and Archbishop Giuseppe Betori.
Another three stolpersteines were installed in via del Proconsolo in memory of Abramo Genazzani, his sister Elena married Melli and his nephew Mario, and in via Ghibellina in memory of Abramo's brother David Genazzani.
Finally, the last stone was laid in Piazzale Donatello 15, where Clotilde Levi, an old widow, was living certain that no one would come for her to send her to a 'labor camp' in Germany. She was killed on arrival in Auschwitz at the age of 80.
"I am always horrified every time I engrave the names, letter by letter. But this is part of the project, because by doing this I remind myself that behind every name there is an individual person," commented Demnig in Bologna.
"The installation of each Stolpersteine is a painful but also positive process because it means returning someone home at least in someone's memory," he added.
The 15 stumbling blocks in Bologna remember rabbi Leone Alberto Orvieto, Margherita Cantoni, Adelaide Di Segni, David Calò, Raimondo Calò, Jak Emanuele Calò, Sergio Calò, Aureliano Calò, Alberta Calò, Mario Finzi, Adelchi Baroncini, Teresa Benini, Jole Baroncini, Angela Baroncini, Nella Baroncini.