NEWS New Stolpernstein across Italy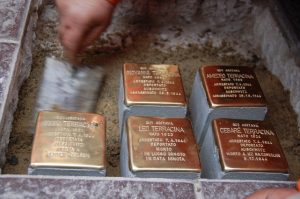 By Daniel Reichel
Dozens of Stolpernstein, the "stumbling stones", will be laid in different Italian cities during this month, in Rome, Milan, Venice, Turin. From North to South, the stones designed by German artist Gunter Demnig will commemorate the victims of the Nazis and the Italian fascist regime.
Each stone bears the name, birth year, and fate of an individual victim, including the dates of deportation and death, if known. Twenty-four of these new Stolperstein will be laid in the streets of Rome.
The total number of cobblestone-sized memorials in the Italian capital city will reach 260: "a sign of the success of this idea to give back the dignity and a place of memory to people that often do not even have a grave," explains architect Adachiara Zevi, the person responsible for the Stolpernstein in Italy. The project has the patronage of the President of the Republic, and is organized by ArteinMemoria with the support of the Union of Italian Jewish Communities.
For the first time Demnig who started the project in 1996 and had already placed 50,000 Stolpersteine all over Europe, will lay some of his own "stumbling stones" in Milan.
The goal of the "Committee for the Stumbling Stones" (the local Jewish Community is one of the founders of the Committee) is to lay in the next five years between 12 to 24 Stolperstein every year. The first six will be placed in front of the houses of Gianluigi Banfi, Adele Basevi Lombroso, Dante Coen, Melchiorre De Giuli, Giuseppe Lenzi and Alberto Segre (father of Liliana, a Shoah survivor and president of the Committee), who were deported to Auschwitz, Gusen, Nordhausen and Dachau and never returned.