FOCUS ON ANTI-SEMITISM Clearness and determination from Berlin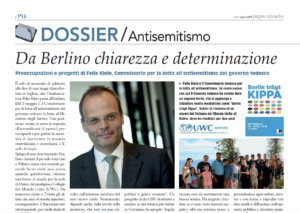 By Ada Treves*
It is only when we are saying goodbye, at the end of a long chat in English, that Ambassador Felix Klein switches to Italian. As of May 2, he is Commissioner for anti-Semitism in the German government, within the Minister for Home Affairs. The position was established from scratch in response to the growing number of worrying episodes and to handle a necessary central and coordinated intervention on a federal level.
He says he didn't learn Italian during his stay in Milan as vice-consul, but several years before, when, at the age of 15, he got a scholarship from United World Colleges to study in Duino (northeastern Italy). He spent his last two years of high school near Trieste, obtaining the International Baccalaureate, the first step towards a prestigious career for many students at UWC. At the time the influent Austrian journalist Cornelia Vospernick and the current Canadian Minister for Foreign Affairs Chrystia Freeland were studying there as well. Marc Sylvester, Director of Studies back then, has total recall of him: "He was an excellent student who positively contributed both in the academic field and in cultural and voluntary activities in our institution". Mr Klein was back Duino last summer for a former students' reunion, but he laughs repeating that "it was such a beautiful time that I grab any excuse to go back".
He keeps this enthusiasm when talking about himself: "I've been overwhelmed by the interest that my new role has generated. Surely it also depends on the novelty of the position, which had never existed in Germany on a federal level, but the attention paid to me has really surprised me".
First, he is responsible for coordinating the many initiatives against anti-Semitism already operating throughout the Country. "This is very important; when you cooperate, the whole is always greater than the sum of the parts", he says. He was immediately invited by the CDU, the Christian Democratic Union. "It's an important party and we are already developing some projects together, starting from the setup of a forum. We are working on an Action Week, a whole week, from a Shabbat to another, in which political representatives and the public should be involved". This project of the CDU will make the Jewish reality more visible in Germany, said Angela Merkel, as leader of the party and not as Chancellor, when she introduced it. "Von Shabbat zu Shabbat" requires that the party members participate in the activities of the Jewish communities, train with Maccabi and give concrete signs of involvement and sympathy.
"It wouldn't be so bad for this initiative of the CDU to foster some healthy competition. I hope that more political parties will soon take a position quite openly with similar initiatives", Klein suggested.
His positive attitude is so contagious that one can almost forget that the German government's necessity to create this position isn't actually very good news. Not even asking him if his appointment has received any negative reaction can ruin his optimistic vision: "Of course, there have been some negative e-mails from far right, but they were just trifle and they have actually strengthened my belief: the assignment I've been given is important and necessary".
He also finds necessary to get immediately engaged in creating a monitoring system for anti-Semitism episodes. The need is to focus especially on those which are not reported: "It is already functioning in Berlin. It is an excellent system and I intend to extend it to the whole Germany. Some acts are not considered felony, even though they can be classified as anti-Semitism, so we have to work on them as well. It is really important that we act immediately, together and strongly, and avoid the spreading of such views among the public and their becoming mainstream. It's a creeping process, of which we can already see some signs, and this is maybe what worries me the most".
People with his same role are working in Bulgaria, in the UK and in France, and together with Ambassador De Bernardin, current chairman of the International Holocaust Remembrance Alliance, Mr Klein is trying to make Italy appoint someone for a similar position. "In 2018 Italy is leading both the IHRA, the International Holocaust Remembrance Alliance, and the OSCE, the Organization for Security and Co-operation in Europe. The timing couldn't be better".
He underlined that in Germany there is no correlation between the recent waves of migration and the growing anti-Semitic acts: "It is true though, that this is a new challenge. New immigrants often come from countries where anti-Semitism is deep-rooted and we must clarify at once that it's an unacceptable feeling. We need some tools helping us handle this process, and education is our first choice. For example, an adequate preparation followed by a visit to the death camps, where we've seen Muslims being touched by what they see as well as anyone else, and a further elaboration after the visit. We know it works, but I don't think it should be a mandatory step as it's been suggested by some. It should be a global strategy instead, one that involves everybody. And it is true that anti-Semitic attacks increased slightly from 2016 to 2017, but they are much less than in 2014".
Online Anti-Semitism cases are growing instead, a trend following that of any hate crime that happens on the web. Klein's position is clear on this issue too: "We have a very strict legislation in Germany, which provides for responsibility and hefty fines for firms which do not intervene immediately and effectively to stop those who spread hate. Fines can be as high as € 5 million. That's a significant deterrent, even for internet giants and it's working, despite all the critics". His purpose is to make all Europe adopt a similar legislation. "It is clear to me, and also very simple: what is not allowed in the real world, shouldn't be allowed on the internet either".

*Translated by Rachele Ferin with the help of Federica Alabiso, students at the Advanced School for Interpreters and Translators of Trieste University, interns at the newspaper office of the Union of the Italian Jewish Communities.